Autumn is the time of year that leads into the holiday season. You'll soon be spending time with friends and planning family gatherings, open houses, and entertaining. Spend time first decorating your front porch in fall colors!
Fall Front Porch Decorating
Your front porch is the first thing your guests will notice as they come through your front door. Make it warm and inviting, reflect the time of summer's end and the bountiful harvest.
I've been researching some decorating inspiration for fall porches. Gathered here are several great websites for you to look at for new ideas.
Fall colors include oranges, yellows, reds, greens, and browns Take advantage of the fall color around you.
Gather beautiful leaves, sprigs with berries, mums, gourds, pumpkins, and accessories to deck out your porch with seasonal color. Enjoy!
Read on to see what we found for your fall front porch decorating ideas.
The Spruce
The Spruce has gathered 13 Affordable Front Porch Decorating Ideas for you to try.
From festive leaves in a basket on the front porch, black and white polka-dotted theme, pumpkins, lanterns, to shabby chic… the ideas are all beautiful and affordable.
House Beautiful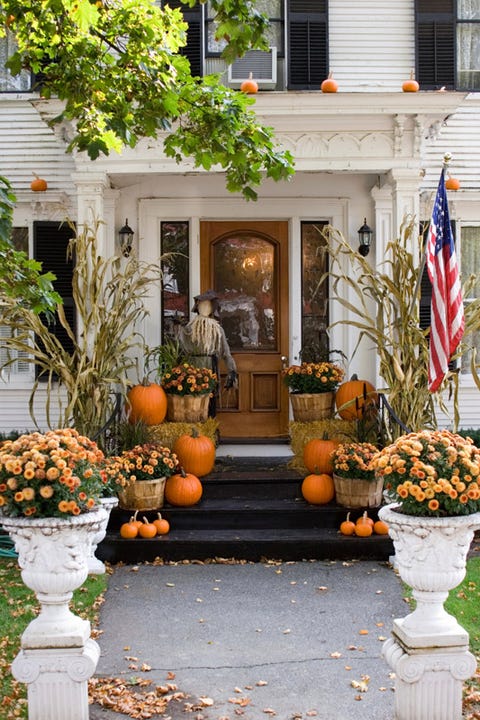 House Beautiful has 33 Elevated Ways to Decorate Your Porch This Fall. Whether you just have a pumpkin pie-scented candle or go all out with straw bales and pumpkins, there are bound to be fun ideas here.
They show you how to take what you already have, add color, arrange dried florals, incorporate seasonal produce, and voila! Fall's here in all its glory!
Country Living
Country Living has 55 Best Fall Porch Decorating Ideas Featuring All the Colors of the Season for you to review.
They talk about pumpkins, and make you want a pumpkin spiced latte while looking at their fall color inspirations! Trade the summer decorations for everything fall.
Home BNC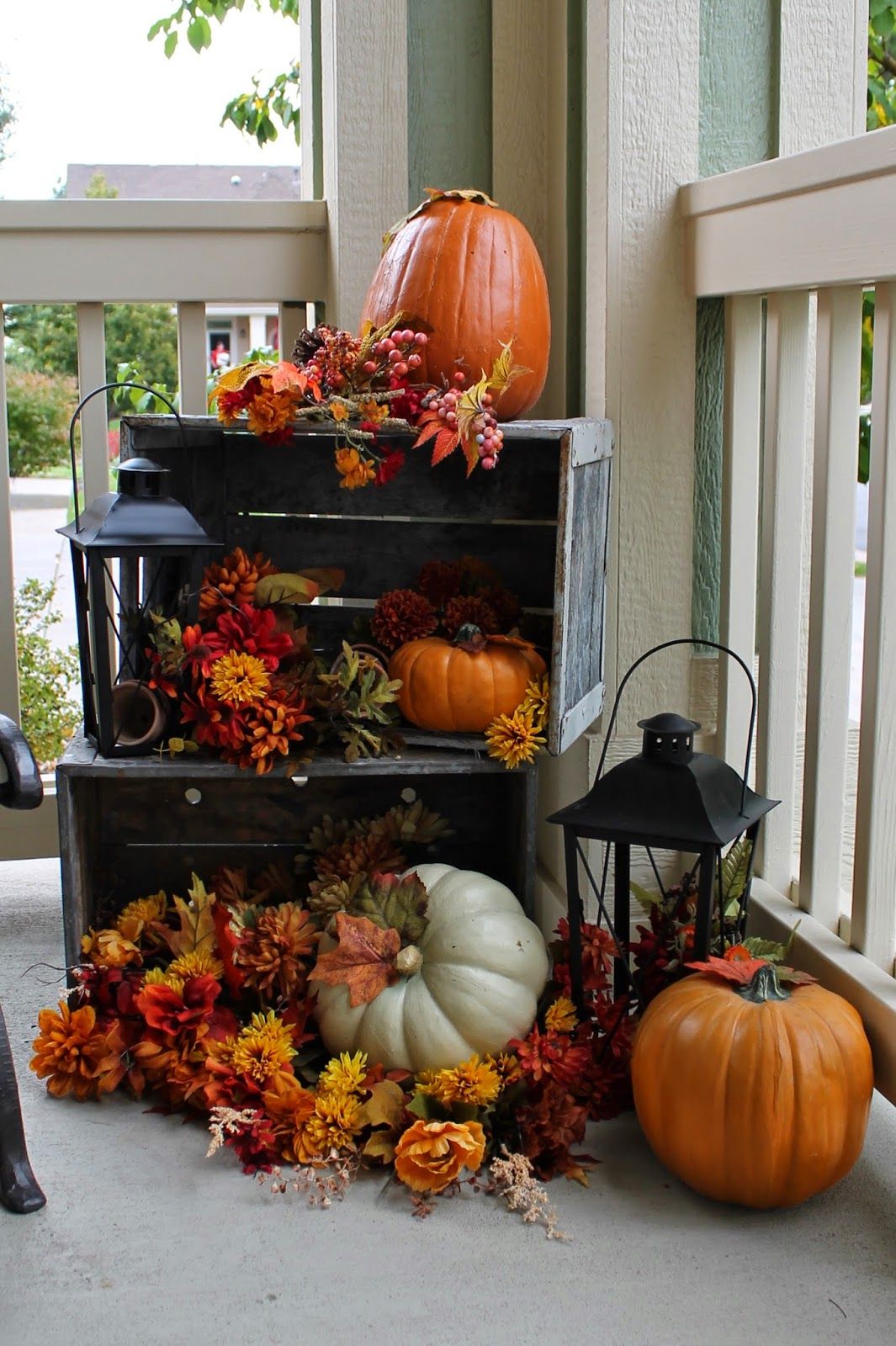 Home BNC offers 27 Genius Decorating Ideas to Give Your Porch a Fall Tone that are simple yet stylish. Their ideas aren't too over the top or cost a lot of money.
The Wood Grain Cottage
Shayna from The Wood Grain Cottage shares her own fall front porch decorating ideas with her readers.
She loves to decorate her porch in a simpler style, but they are all beautiful. I want to make that sign for my own front porch!
The Gardening Cook
The Gardening Cook shows us how she decorates her own front porch in Front Porch Decor for Fall – Autumn Entry Decorating Ideas.
Carol always has fun ideas and includes the "recipes" for her creations that list the supplies you'll need to create her looks.
Prudent Penny Pincher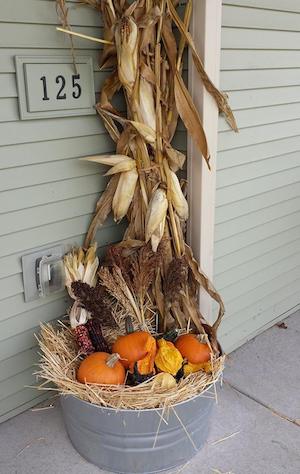 You can create beautiful fall decorations without breaking the bank.
The Prudent Penny Pincher gives us 100+ Cheap and Easy Fall Porch Decorations to consider adding to our front porch. There are plenty of ideas here for inspiration to bring fall color to your entry area.
Better Homes & Gardens
BHG always gathers some great ideas for inspiration, and their 36 Pretty Fall Front Entry Ideas You Can Keep Up All Season Long is no exception.
You'll find inspired decor ideas here!
Front Porch Ideas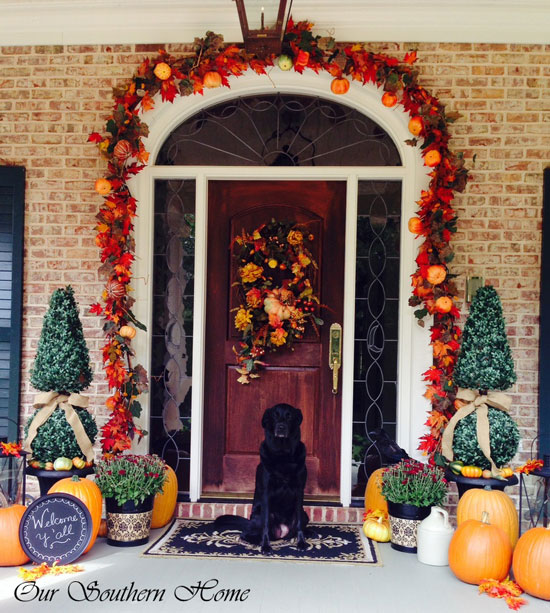 Mary and Dave Morris gathered Fall Decorating Ideas From 25 Bloggers and shared them all with us.
As they said, "Who knew what a can of gold spray paint would do? Or how a bright plaid blanket pops on a rustic ladder? Or a beachy themed autumn porch? Yes, it really works."
Beautiful and imaginative front porches for your pleasure.
The Budget Decorator
Kathy from The Budget Decorator brings us Fall Front Porch Ideas (On a Budget!) that will help you with fabulous decorations while saving some cash for the holiday season. She also has two other websites that keep her busy!
First Day of Home
Crissy with First Day of Home offers How to Decorate Your Front Porch This Fall. This is a really good project, as she is using five elements to incorporate into the design, AND she has a small porch with only one step.
I suspect there are many of you who have similar porches. Her photo above shows how charming her small porch is. Just beautiful!
Wrapping It Up
We've gathered 17 ideas for fall decor outdoors here. And here are 13 fabulous ideas for decorating inside!
Looking for ideas of what to plant in the garden for fall color? Try 24 Best Perennials Plants to Grow for Fall Color and What to Plant in Containers Now for Fall for more inspiration.
Sign Up For Our Newsletter!